A Story Like No Other, For a Product Like No Other
7K Roping, established in 2006, is a family-owned business managed by Sandy and Shannon Stephens. Sandy grew up in far West Texas and graduated from Marfa High School. He spent much of his youth working cattle on his family's ranch in Presidio County, helping train horses and competing in team ropings and high school and junior rodeos.  He studied aerospace engineering at the University of Arizona, general studies at Sul Ross State University, and received an engineering degree from Texas A&M University, College Station while competing for TAMU Rodeo in team roping with his brother.  Sandy became a registered professional engineer in 2002 and is licensed in several states.  He has obtained various patents and ultimately found his purpose in the design of affordable, multi-functional team roping and calf roping training tools.  
Shannon grew up in Michigan and North Texas and graduated from Aubrey High School.  She has long been involved in the equine, agricultural and western industries.  With her business and industry insight, ability to foster relationships, and her understanding of supply chain logistics, Shannon has steered 7K Roping to become a leading supplier of premier western training products and accessories.
7K Roping products are designed in house based on our experiences and lessons taken from years of competitive roping, ranch work, horseback riding, horse training, family raising and professional engineering.  We are committed to the support and advancement of the roping, rodeo, ranching and horse training industries and to the furtherment of the western family lifestyle. 
Our company name is the brand we put on our livestock. Our products are made in Texas, USA to the highest engineered standards. We stand behind our brand and our products and we support our customers with the best warranties in the industry. We appreciate you taking the time to get to know us, and we definitely appreciate your business.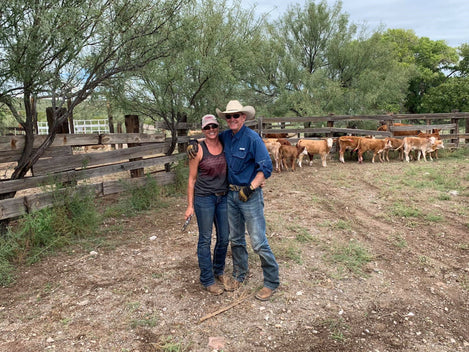 Shannon has spent most of her life in the horse country of North Texas in Aubrey and Pilot Point. She was taught from a young age the value of honesty, hard work and character through working with her father on their family ranch and in his construction business. For many years, she had her own ranch in Pilot Point where she raised horses, cattle, and just about every other animal possible. Shannon enjoys working with Sandy to develop training tools that not only help improve their customers' training programs but also so that they can use them everyday working with their own family. Her attention to detail is key in developing new products as well as keeping 7K running day to day. When you call, you're likely to talk to Shannon since she truly enjoys being personally connected with our customers and looks forward to talking to and meeting as many as she can.
Combined, Sandy and Shannon have been blessed with a large family - six children and three grandchildren, all of whom help out with 7K from time to time in many different aspects.
Our motto is: Be nice to folks, try hard but train harder, and ... try not to drag a calf to the fire by one leg.
We live by the following rules:
Be nice to folks
Try hard but train harder
and…try not to drag a calf to the fire by one leg
If you ever have a problem with any of our products, we fully stand behind them and will do whatever we need to make it right for the customer.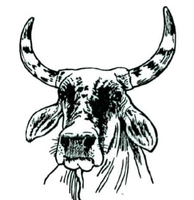 If you ever have a problem with any of our products, we fully stand behind them and will do whatever we need to to make it right for the customer. Don't hesitate to Contact Us with any questions.
Curious why our sleds and dummies are called "Something"? Something Steer was a truly one-of-a-kind Brahman born in 1982 and known for his mischievous nature and incomparable taste for the finer things in life. Learn his story here (PDF).