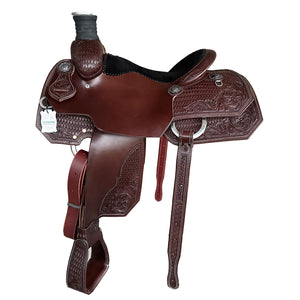 Our 7K Diamond Roping Saddle is professionally crafted in Greenville, Texas and designed specifically for team ropers and ranchers. 
The cantle is just a little higher to help you push up on acceleration and give you stability to pull back.
The seat is configured to keep your center of gravity forward.
The swells are crafted to provide better leverage for your thighs to help with balance, especially on aggressive shots.
The skirt is strategically cutout at the cinches to keep the bars snug to your horse while reducing side pressures on the skirt.
The fender cutouts provide a narrower stance for improved balance and delivery and allow for better communication with your horse through leg pressure.
The patented Dally Post HD with the detachable cap makes it easy to rotate or swap out the Nevawrap 2.0 dally traction device.
The patented Nevawrap 2.0 can be rotated to eight different positions to distribute the wear. It is constructed with proprietary materials designed and tested specifically for traction, abrasion resistance, tear strength and UV resistance.  It comes with a metal insert that prevents rotation around the Post.  The Nevawrap 2.0 is guaranteed to:

Stop the Clock
Reduce Rope Run
Save Time
Save Ropes
Save Money
Outperform & Outlast Conventional Rubber Strips
Prevent rope snags
Reduce rope pop offs
Provide a Safer Dally with More Consistent Wearing Surface
Fiberglass Covered Wood Tree

Hermann Oak Leather - 3/4 Tooling

3/4 Diamond Stamp and Floral Tooling

Leather Aluminum Slanted Stirrups

6" Flank Cinch
Skirt Cutouts for Latigo and Fender

In Skirt Rigging
Full Padded Sued Seat
Weight = 40 lbs
Gullet Width = 6 7/8"
Gullet Height = 7 1/2"
Swell Width = 13"
Cantle Width = 13"
Cantle Height = 4"
Quarter Horse Bars
Slanted Roper Stirrups
Saddle trees and Dally Posts come with a lifetime warranty limited to the normal and proper use of the product.  Saddle components and construction are warrantied from manufacturers defects for a period of 5 years.  The Nevawrap comes with a performance guarantee.
Call for custom options and pricing. 866-427-3876